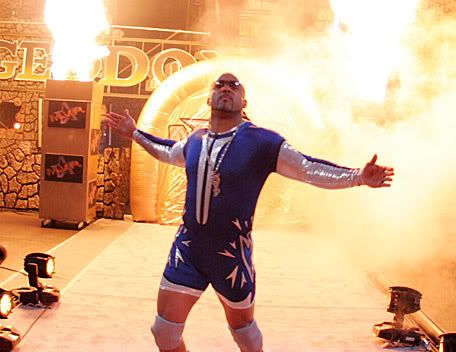 Another week of SmackDown is in the books, this weeks show coming from the Igloo in Pittsburgh, where this year the Penguins played the Stanley Cup vs the champion Detroit Red Wings. The show was full of two women's matches, a pair of long, very well fought matches with Jeff Hardy vs MVP and Shelton Benjamin vs Triple H, and the on-going saga with Undertake vs Vickie Guerrero. Here are some thoughts from the show:
The Good:
* Both the MVP-Hardy and Benjamin-HHH matches were very good. They were long, but both deserved the time they got. Didn't exactly like Khali coming out at the end, thought that was a waste, but I know it's all an attempt to build the scramble challenge at Unforgiven.
* Good to see Taker actually talk again. He's always been good on mic in my opinion, and for him to waste his character by simply grunting "Rest in Peace" every now and then is not enough. He's not Ric Flair when it comes to promos, but then again, he's good enough with his look he doesn't have to be.
* I like the build they are giving Mayrse, who really has been able to come on as of late. They need to continue to develop different divas for title shots, and you can see Mayrse getting one very soon.
* Big Show is headed for a title shot at some point, and while it was a waste for him to come out and lay out the tag teams like he did, I have no issue with him doing it to prove once again that he can be a force.

The Bad
* Not quite following the Taker-Guerrero storyline. I mean, let me understand this. Vickie says she's sorry, and that she wants to make it up to Taker. Taker says no, and that he's going to send her to Hell. In the meantime, Chavo, Bam and Hawkins and Ryder leave her in that room all night, and to top it off – she's locked in till the end (I guess with a cameraman?). Then we have her in the dark, screaming at the end. Not the best of endings to an otherwise pretty good show.
* I realize that Victoria is the diva that never is allowed to win a match, but her match vs the newcomer – Brie Bella, was so one-sided, that once Bella was allowed to win with a weak roll-up, I actually felt bad for Victoria. She's reminding me more and more of Ivory before she left the company a few years ago.
* I was more interested in the promo that Kenny Dykstra cut than the match and eventual loss to Ron Killings, now known as "R Truth." Here's a vote that Killings will win for awhile, then fall into mid-card hell and become a nobody.
Final Grade for the Show: B-
Labels: jeff hardy, MVP, shelton benjamin, smackdown, triple h, undertaker, vicki guerrero